Here are some images from the Ft. Wayne project.
Meet the Ft. Wayne Crew. From left to right, Malcolm (me), Rick, and Jacob.
It all begins by placing this little cove. Have to set it at a level which we expect the floor to be. Have to also set it at a location where we expect the floor joints to be. No sweat for a layout and leveling expert. Mitre corners very nice too.
Next we jack up the walls 1/16" joint nice n flat. Were averaging 110 SF per. 8 hour manday. Pretty fast but challenging with 12" x 24" tiles.
Once the walls are all set and grouted, then we set the floor ( not wanting all the mess from walls on floor). Floor goes in a running bond( bricklayer pattern).
Here's Rick, from the crew, putting in the last piece. He's been looking for that piece all week. LOL.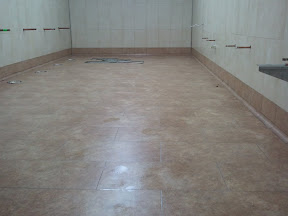 Here's a shot of the finished work ready for the buffaloes to come in and hang toilets and stalls etc. It will never be as clean as this moment.
We'll be back at it next week to do the women's bathroom.
Happy Tiling